Great Investment Coffee Farm and Residential Eco-Development Property
ID CODE: #3487
Sales Price: US$695,000
Three individual lots with water and electricity – prepared and ready for construction for just $150,000, $50,000 each.
Land: 28 hectares (70 acres)
Bedrooms: 2
Bathrooms: 1
---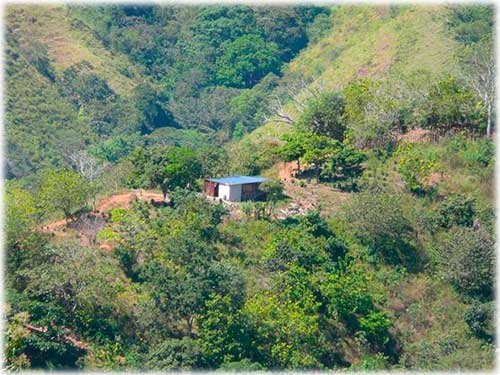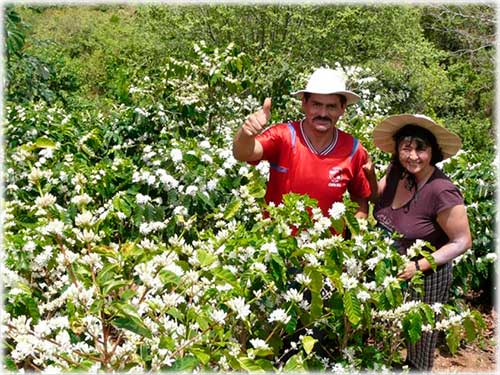 If you are looking for a great investment, this 70 acre coffee farm with the potential of becoming a residential eco-development property is what you have been looking for. At an elevation of 3,000 feet, the area features the perfect weather, spring and summer all year, the temperature being in the 70s and 80s. Apart from the coffee plantation, the estate has 20 titled lots for individual building sites from 1/4 to 1 ¼ acres - in all of them you can enjoy ocean views, waterfalls, and privacy because the property is secluded and private due to its location at the end of two public roads. There are two acres for vegetable gardens – with the year-round growing season. where you can reap fresh fruits and vegetables daily from your own gardens. As if this was not amazing enough, you will be surrounded by nature and wildlife. There are 30 acres in common areas with forest, streams, 8 waterfalls some 100' high with natural swimming holes, fruit trees, gardens, tilapia pond, birds, monkeys, and other wildlife. There are 20 acres of coffee in production; that produced 18,000 pounds in 2014, and hundreds of new plants were planted with a goal of 30 thousand pounds of coffee by 2020. Currently there are 30,000 plants with room for 100,000.Yet at the same time the estate is close to everything, less than an hour to shopping, medical services, beaches, airport and less than 30 minutes to San Ramon and Atenas. This is an incredible property, which will definitely create a lifestyle change. There is public water and power installed to the farm. The farm has two pure water springs (4,000 gallon per day) and two streams with waterfalls. 10 of the 20 titled building sites are prepared for immediate construction. The coffee and building sites use only 50% of the farm, 20% is in native forest, tilapia pond what makes the place full of wildlife – birds, white face and howler monkeys, sloths, and other wildlife. It is the perfect size and location for intentional and/or sustainable community of like-minded people.
Coffee Plantation Production
At first, when the farm was bought, the focus of the owner was on getting the infrastructure in place and the coffee plants rehabilitated from years of neglect. They found a local coffee farmer to manage the farm on a daily basis, who proved to be honest and dedicated. They also started planting fruit trees, ornamental plants, and about 1,000 new coffee plants a year. Every time that coffee was planted, a variety of fruit trees were planted as well, about 300, for shade, personal consumption and as a second salable crop. They are now embarking on a program which will increase the farm's coffee production from 12,000 to 30,000 pounds in three years. The coffee production has increased from 670 pounds to 12,000 pounds in the four years since they bought the farm, and are heading for a goal of 30,000 pounds by 2020. There are approximately 30,000 coffee plants currently on the property and there is still room for an additional 80,000 plants. The farm's coffee is high elevation and Rainforest Alliance Certified. A productive farm should produce 60 fanegas per hectare and that translates into 6,000 pounds of green beans. Depending on the market, that is $7,000 - $9,000 per hectare. The coffee earnings were developed to make the farm sustainable.
Residential Development
The real economic value of the farm lies in the development. After establishing the coffee crop, the owners then worked with the surveyor and municipality for two years to get 20 lots platted and registered - which was not an easy process. The existing 1 1/2 miles of internal roads were cleared as well as a two-acre area for growing crops. The property has just a small building, a primitive two bedroom, one bathroom worker's house that has spring fed water and solar electricity but no occupants. It does have a bathroom with shower and flushes toilet as well as public water and electricity starting this year.
The plan for the property is to build and sell 20 houses on the 20 titled lots which will generate a profit of $2,000,000 - $5,000,000. The profit will depend on the type of housing and the development of the property. All 20 lots have a view of the ocean with plenty of room for more development. In this development is where you will obtain the biggest profit on the purchase of the property.
In addition to the two years around streams, the farm has two springs providing free fresh water. Having your own pure water source is another advantage of the property. The farm has 8 waterfalls. The owners have been relying on solar panels for electricity and water pumping. Although the farm has electricity from the public utility, it is feasible to rely on solar and hydro for sustainability and self-reliance if necessary.
The property is fully owned and has no encumbrances.