Specialty Coffee plantation, a studio home and 2 ready to build lots with spectacular Nicoya Gulf Views
ID CODE: #3536
Sales Price: US$250,000
Land: 2 hectares (6.178 acres)
Construction: 110 m2 (1,183 sq.ft.)
Bedrooms: 1
Bathrooms: 1
---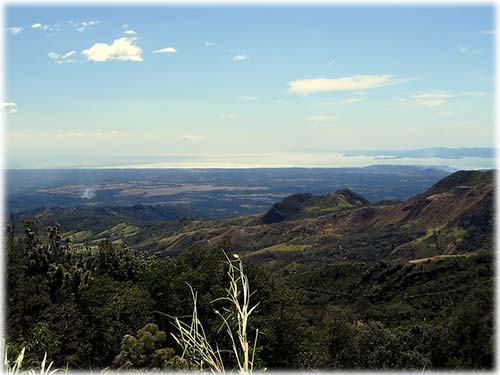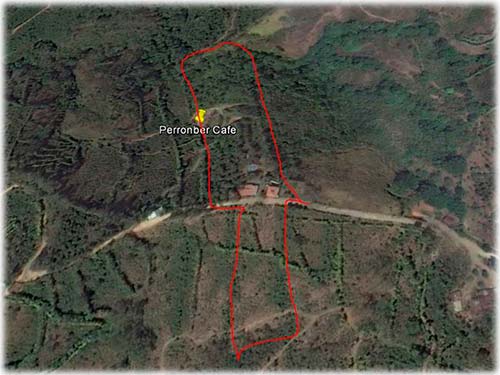 This is a 2.5 ha hectares property, a specialty coffee plantation with more than 5 000 plants. The property has 4 lots and it is located on the sides of the mountains and is crossed by a small stream at bottom of the valley. The property offers exceptional panoramic views of the Pacific coast offer magnificent sunsets and views of city lights of Orotina, San Mateo and Puntarenas at night. It is one of the most peaceful location between the mountain cordilleras and the shore. Landscape includes coffee plantations (coffee Arabica), pastures and forests. A variety of fruit trees with a small stream crossing the property makes it a haven for a multitude of exotic fauna, like parrots, toucans, and White Face monkeys. This estate benefits of the warmth of the seashore and the cooling breeze of the mountains resulting in an ideal tropical climate where A/C and heating systems are not necessary.
The range of temperatures: varies from 28 degrees celsius to 17 degrees celsius at night.
The property has a studio home with open concept kitchen, living room dining room and bedroom and a spectacular terrace to enjoy the views.
It also has two beautiful ready to build lots :
LOT A : has an area of 5920 square meters , and has 2 levels
LOT B : has an area of 5259 square meters, and has 1 level
A driveway in good condition and partially cemented runs to the lots. This driveway serves also 3 neighbouring houses.
The following services are accessible at less than 100 meters of each lot:
*Electricity provided
*Home telephone, Internet 4G by cable
*Excellent pure water from the mountains provided by ASADA.
Each lot has views on the Pacific Ocean and are covered by approx. 800 coffee plants.
The property is located on Calle Chavarría, just south of Berlín village center, which is about 20 minutes away from San Ramón and 15 minutes from Palmares, 2 towns offering all amenities such banks, supermarkets, shops, schools, universities and hospital.
It is a paradisiac spot located in Berlín de San Ramón, mid-way between the capital San Jose and Puntarenas on the Pacific. Driving distances are: 1 hour to the International airport Juan Santamaria and 1 hour and a half to the beaches of Puntarenas and Jacó on the Pacific sides.
Most of the touristic sites are within 2 hours driving, such as Arenal Volcano, Poas and Monteverde (cloud forest).
There are available studies and plans that can be included in the negotiation for an additional $15 000 and they include:
*Architectural preliminary plans ("Renders")
*Architectural final Plans
*Soil Studies
*Electrical engineering plans
*Structural engineering plans
*Permit of the Engineer Association
*Permit of the Municipality of San Ramon (January 2018: to be payed when ready to build)
*House with mini-pool infinity / jaccuzi = 185 m2(2 bedrooms + 3 bathrooms + office + kitchen + living room + laundry room + terrace with grill + garage + carport and electrical gate
*Warehouse = 48 m2
*Roasting studio or other function… = 12 m2